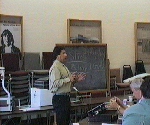 ICA provides a wide variety of training to individuals from the Indian Nation and Native Alaskans. These seminars are usually conducted under the auspices of the respective Indian Nation in conjunction with United States Department of Housing and Urban Development (HUD). These seminars address projects related to housing rehabilitation, new construction of housing units, property acquisitions and infrastructure, i.e., roads, underground utilities, project administration and procuring construction phase services, how to prevent and overcome common pitfalls associated with construction. It is imperative that all individuals involved receive a full understanding on how to develop, implement and administer projects of this nature.
Grant Award Special Conditions are also addressed in this section. Another important aspect addressed is time, record and stress management.
ICA utilizes various forms of media to illustrate and demonstrate this aspect, including overhead transparencies, video tape, handouts and skits involving the seminar participants. Good record management is a vital and integral element in the successful completion of a project. The twenty biggest time wasters are discussed and various methods in preventing and overcoming them. In addition ICA has developed presentation and participant instruction manuals assisting and providing a guide for implementing a successful project.